HOME INSPECTION GUIDE
Protecting Your Home from Fire Hazards
3 STEPS TO A FIRE SAFE HOME!
BE AWARE OF THE COMMON CAUSES OF HOME FIRES.
INVOLVE THE WHOLE FAMILY AND CHECK FOR HOME HOT SPOTS.
KNOW HOW TO CORRECT HOME FIRE HAZARDS QUICKLY AND SAFELY.
ELECTRICAL
Never overload your homes electrical system. All large appliances should have their own circuits.
Signs of overloaded wiring include:
Frequently blown fuses or tripped circuit breakers.
Slow heating appliances.
Shrinking television picture.
Never replace a blown fuse with a fuse that is too large for that circuit. Never substitute a penny for a fuse.
If you suspect your homes wiring is overloaded, have it checked by a licensed electrician immediately.
Always unplug appliances after use.
Never wrap a cord around a warm appliance.
Don't block air circulation.
Never leave an electrical appliance near water.
If an appliance gets wet, have it serviced before using it again.
Replace broken plugs and frayed or worn cords immediately.
Only plug one appliance into an outlet or extension cord.
HEATING
Home heating systems cause many fire related deaths each year. Being aware of some of the problems that heating systems can cause can help to decrease the occurrence of these fires.
Gas Heaters
Examine the gas line for punctures or splits.
Check the connectors and valves for leaks.
Inspect monthly during the year and weekly during the winter.
Electrical Heaters
Make sure your homes wiring is sufficient to handle the heater's needs.
Frequently check wires and fuses for damage and repair immediately.
Never use the heater near a source of water.
Kerosene Heaters
Use only water clear, grade A-1 kerosene.
Never use gasoline, camp stove fuel or yellow kerosene.
Always keep all combustible materials at least three feet away from space heaters.
Only use if legal in your area.
Woodstoves and Fireplaces
Top the chimney with a spark guard.
Always use a screen large enough to cover the opening.
When in use, keep the damper open.
Never burn green wood, paper or trash, they cause heavy creosote build-up.
Inspect and clean regularly.
HOUSEKEEPING
Your Home and its Surroundings
Avoid cluttering the attic or basement. Make sure there is air circulation.
Store flammable liquids in tightly sealed, properly labeled metal containers away from heat sources.
Clear pine needles and leaves from the roof and gutters. Trim tree limbs within ten feet or your house and remove dead limbs.
Never keep trash near your home.
Never smoke in bed. Keep smoking materials away from the bed area.
Check living areas for smoldering cigarettes.
Keep matches and lighters out of the reach of children.
In the Kitchen
Don't overheat grease and be alert for overflows.
Never leave cooking unattended.
Always turn pot handles toward the center of the stove.
Don't leave towels, napkins, or pot holders near the stove.
Keep your stove and oven clean.
INSPECTION CHECKLIST
Install smoke detectors throughout your home and test them at least once a month.
Keep multipurpose ABC fire extinguishers serviced and ready to use. Know how to operate them properly.
Keep emergency numbers clearly posted near the telephone, and learn the correct procedure to report a fire.
Make sure every family member knows how to escape from the house by crawling low in smoke. Hold regular fire drills.
Designate two exits from each room and a meeting place outside the home.
If a fire breaks out and you can't control it, get out fast and call the fire department from a neighbors home.
NEVER GO BACK INTO A BURNING BUILDING!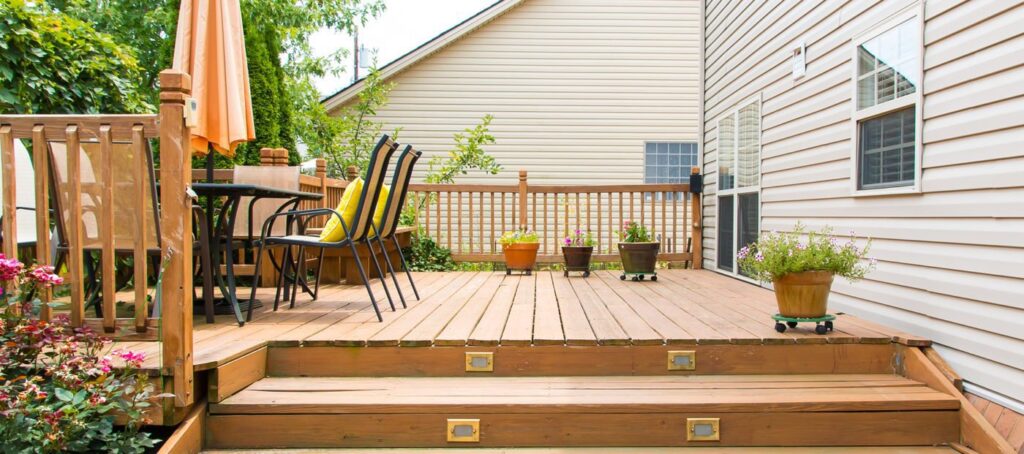 Fall Inspection Guide
carries a flashlight into the attic of the three-story house, but he doesn't need it. Daylight streams in through several coin-size holes in the roof, and the rays of sunlight pierce the musty space like in an old-master painting. "Looks like it's been leaking for a while,"
there was no house inspector to look over the property. ­Didn't need it; they were the first owners. But that was a long time ago, and since then, this place has missed more than a few checkups and a lot of preventive medicine. The crew is getting ready for the start of construction by doing an informal version of what a professional inspector does when a property changes hands. But had someone been giving the house this kind of attention on a regular basis, many of its current problems could have been kept at bay.
Since inspectors always seem to find something wrong, it stands to reason that any homeowner who uses their kind of thorough thinking as a model during a once-a-year maintenance review—preferably in the fall, before rough weather sets in, and with a notepad in hand—will catch small problems before they balloon into major expenses. You don't need to hire a pro, though it may be warranted under certain circumstances
The logical place to start any fall maintenance inspection and repair list is outside, where you can take in the big picture. that means doing something as simple as standing and looking at the house. Conspicuous changes from year to year, like cockeyed windows or a sway in the roof, indicate an ongoing prob­lem, such as a compromised foundation that's pulling the house down.
But you also need to look at the parts that make up the whole: chimney, roofing, flashing, siding. Take note if anything is broken, cracked, curled, split, or crooked. But also pay attention to less overt signs: stains on siding that could mean water isn't flowing through the gutters and downspouts, peeling paint or missing mortar in distressed spots, small holes or droppings near animal or insect nests. Be especially conscious of the presence of vermin, because they chew on framing and wiring.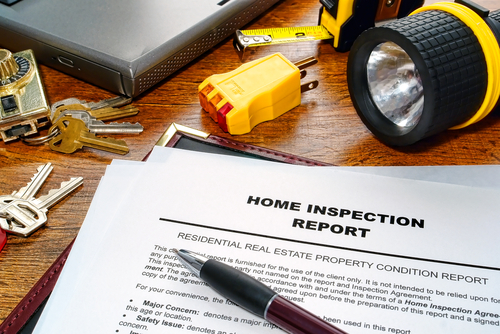 The hottest summer home inspection checklist for homebuyers or sellers
Now more than ever, it's important to ensure your clients are prepared to look for possible issues that might affect their home's sale or their purchase of a new home.
Home Inspectors to guide a DIY home inspection. Feel free to share with your clients as a checklist when buying or selling a home.
Air conditioner
Inspect the unit to make sure it's in good working condition.
The air conditioner must be leveled and free from obstruction.
Do not fully cover your air conditioning unit during the winter — doing so will cause the fins to rust inside. Instead, consider covering it with a piece of plywood and securing it with a rock.
Deck
Maintain your deck by ensuring it's stained or painted on a regular basis.
Check the overall structure every spring and fall.
Ensure there are proper footings to prevent sinking
Proper guardrails should be at least 36 inches to 42 inches tall.
Rodents and pest prevention
Check for common rodent entry points, including open gaps in the exterior.
Another common entry point is where the air conditioner lines enter the house.
Gutters
Check for clogs and clear the gutters. If you find any damage left over from the harsh months, get it fixed to eliminate the possibility of developing water damage.
Also, while you're up by the roof, it's worth doing a survey to see if there are any missing shingles or other types of damage.
THE HOME INSPECTION PROCESS: A GUIDE FOR SELLERS AND BUYERS
home inspectors is provided as a courtesy only. We do not endorse or support anyone specifically nor do we know their experience level. We suggest you do your own investigation and study of reviews before you choose your home inspector.
The home inspection is a crucial part of any home sale and purchase transaction, and for good reason. The buyer needs to know that he's not buying a potential money pit, and that there are no unsafe structures at the property before he hands over the purchase money. For the seller, understanding the home inspection process is an opportunity to fix anything that could scupper the deal and secure a top-dollar sale price. So what happens at this mysterious inspection, and what can you do if it throws up a red flag?
Let the Buyer Beware!
The legal framework for buying and selling real estate comes common law, which operates under the doctrine of caveat emptor: let the buyer beware. Caveat emptor means that the buyer has a duty to investigate the property before closing. The seller, on the whole, does not have to disclose any information about the property he is selling, good or bad.
Of course, this is a simplistic view and state law has intervened over the years to water down the caveat emptor doctrine. Today, most sellers make disclosures about the property, such as whether the home has flooded in the past and when the furnace was last serviced. Federal law also requires mandatory disclosure about health-harming substances such as mold and lead paint.
The problem with disclosures is that a seller only has to disclose problems that he actually knows about. Sellers do not have to poke around the roof or go deep into the foundations to uncover any problems with the property. Many sellers will not spot problems, especially those that are invisible to the untrained eye. That's why 84% of home buyers hire a professional home inspector to put the property under the microscope.
Home Inspection: Seller's Guide To Getting Your Home Inspection-Ready
As you prepare to sell your home, you want your home inspection to go well and prevent any surprises on the day of your inspection. There are several ways to avoid potential nightmares such as expensive closing costs, additional renovations or even a withdrawn offer. Read on for tips on how to prepare your home and what to expect out of an inspection.
The First Step To Getting Your Home Ready
The first thing you'll do when preparing your home for an inspection is to clean it. Your clean home will show the inspector that your home is well-maintained and cared for. It will set the expectation that the appliances and other elements that will be inspected are in equally good shape.
As you tidy up, you'll want to make sure all the appliances are easily accessible for your inspector. This may mean moving some furniture or clearing a path to utilities such as water heaters. Inspectors aren't required to move your belongings, so make sure there's enough room to access various appliances and utilities that there's no need to have to reschedule. Rescheduling will cost you and the buyer more time and money.
The major things your inspector will look at are:
Physical Structures: This includes checking the driveway, garage floor, roofing, attic spaces and foundations for any major issues.
Interior Structures: In addition to the home's physical structures, an inspector will look inside the home to assess the condition of the living spaces. They'll look at the flooring, walls, doors and windows.
Major Systems: Your inspector will also perform running tests on the water systems in the home. In this procedure, they'll turn on every faucet to test water flow, cold water output and hot water output. They'll also test the refrigerator, dishwasher, oven, stove and all the toilets for basic functionality and performance.
Utilities: As part of the major systems check, your home inspector will assess and give you a detailed report on the quality of electrical lines in your home as well as your gas service.
Get The Most Out Of A Home Inspection With These Tips
Beyond being aware of what will be inspected and making sure that you present your home well, there's more you can do to get the most out of your home inspection. Here are 10 steps for you to follow to ensure a smooth inspection process:
Turn it on: Confirm that all of your services are turned on. This includes your water, electric and gas services. You may need to make phone calls to these providers to ensure that they're up and running before the inspection. When your gas service is on, ensure that the pilot light is lit.
Pets: Ensure that your pets won't hinder the inspection. Some inspectors will ask that pets be removed from the home while they're there. You may want to plan to have your pets secured outside or off the property during the inspection.
Everything works: You may also want to replace burned-out lightbulbs to avoid a "light is inoperable" report that suggests an electrical problem. You should ensure that any electrical outlets are in working order as well.
Working detectors: Replace any batteries in smoke detectors or carbon monoxide detectors and make sure they work. Most smoke and carbon monoxide testers have a "test" button to help you know they're functioning properly.
Air Filters: Ensure that all heating, ventilation and air conditioning (HVAC) air filters are clean and fit in their compartments properly. You may want to replace your filters before your home inspection.
Pests: Avoid any red flags for bugs on your home inspection such as moving stored items, debris and wood from the foundation of your home as they're a breeding ground for termites. If you've had pest issues in the past, you may want to have an exterminator look at your house before the inspector comes to make sure you don't have any existing issues with pests.
Utility access: Ensure that the inspector will have access to everything they need to assess. This includes the HVAC equipment, electrical service panels, water heaters, attics, crawlspaces and any other appliances in your home.
Room access: Unlock any areas that your inspector needs to access. This includes the attic door or hatch, electrical service panels, the basement and any other doors or exterior gates. You'll want the inspector to be able to access every area of your home.
Lawn hazards: If you have trees in your yard, make sure that any limbs are at least 10 feet away from the roof. You may want to trim your shrubs and check that they're not too close to your house. You'll also want to remove any foliage that's growing too close to the exterior because some foliage can hide pests or hold moisture against the exterior of your home. If necessary, hire a professional to remove any overgrowth in your lawn.
Repair and replace: You'll want your home to look well-maintained. Repair or replace any broken or missing items. This may include doorknobs, fixtures, locks and latches on doors, windowpanes or window screens. On the outside of your home this may include gutters, downspouts and chimney caps.
A typical home inspection lasts about 3 hours. Oftentimes, the home buyer will attend the home inspection as it's likely the first time they'll be seeing the home since putting in an offer and potentially the last time before their final walkthrough. Having the homeowner present during this inspection can be uncomfortable for not only your potential new buyer, but for the inspector as well. Our advice is to schedule the inspection at a time when you'll be out of the house. This will help make your buyer feel comfortable and more at home.